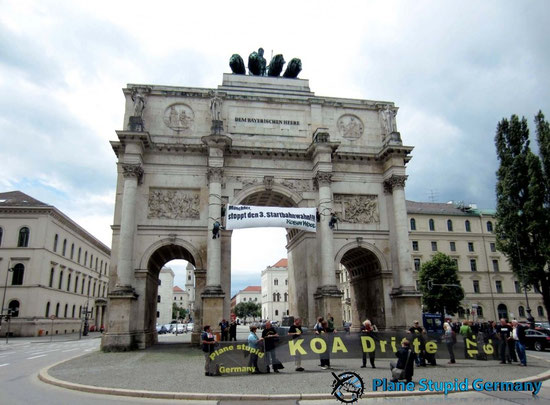 ROBIN WOOD activists appeal to Munich, to vote against the airport expansion during the referendum at June 17..
Environmental activists of ROBIN WOOD today climbed the Siegestor in Munich. On banners they demanded the slogans "Stop the 3rd Runway madness, "and "No, at 17.6." They appealed to the Munich city, where citizens vote on 17th June against the construction of a third runway at the airport in the Erdinger Moos. Today's action is supported by Plane Stupid Germany.
The third runway is ecologically and economically stupid. Although there is a rise in passenger numbers, the number of flights at Munich Airport is stagnating. The peace was in 2008 and declined since then. The expected cost of building a third runway will amount to 1.2 billion euros, the financing is still unclear to the public.
The new runway would be placed in the Erdinger Moos, one of the last large, Bavarian fens. An area greater than the Tegernsee would disappear under concrete. This would distroy a unique habitat with high biodiversity and at the same time one of the major carbon dioxide sinks in Bavaria. The extreme climate-damaging air-traffic, however, would be promoted further and heat upt the climate. The Munich Airport is all ready the largest single climate killer in Bavaria.
"A transport policy that focuses on the promotion of the most climate-damaging means of transport, is irresponsible. It contradicts the climate plans of Munich and also the article 141 of the Bavarian constitution, where the protection of the natural livelihoods is written down, "says Magnus Celine of ROBIN WOOD.
To avoid a climate-collapse a radical reduction of greenhouse gas emissions is necessary. The ministry of environment in Germany speaks of a by ninety percent in 2025 compared to the year 1990. In the transport sector, this is only possible through a restriction of aviation. "We need a radical change in transport policy. Dinosaur projects like the expansion of Munich Airport do have to be stopped immediately, "urges WOOD-ROBIN traffic-officer Klaus Schotte.
ROBIN WOOD and Plane Stupid Germany want a better mobility for all rather than more
Traffic. More traffic means' more noise, more concrete, more fumes, more greenhouse gases and
more stress. Instead, the question must be: Why are people and their things on the road? How can we meet our mobility needs safely in the future - just, environmental and climate-friendly?